"SO Duo is a song project of Sumru Ağıryürüyen  and Orçun Baştürk  who have been creating various projects together in a spectrum between traditional and avant-garde since 2013."
This is the opening phrase of the group which takes its place in the project's official web site. In fact this citation is the key sentence that summarizes the whole thing.  As it is denoted in the given citation, SO Duo is not the only project Sumru and Orçun are engaged together as they have quite different and fruitful collaborations in various projects with different setup combinations since 2013.
Sumru Ağıryürüyen is first known to be the solo and chorus singer, mandolin player and the founder member of the band Mozaik. Although their first recorded and distributed material is the 1983 debut album "Ölümden Önce Bir Hayat Vardır", Mozaik had a background beginning with Bosporus University's Music Club founded at the end of the 1970s. During 1980s she appeared in the albums of Mozaik (Ölümden Önce Bir Hayat Vardır (1983), Çook Alametler Belirdi (1988)), Ezginin Günlüğü (Bahçedeki Sandal (1988), Ölü Deniz (1990),  Yeni Türkü (Dünyanın Kapıları 1987), Bulutsuzluk Özlemi (Uçtu Uçtu) etc. These bands didn't have a homogenic sound, but quite the contrary they were all in seek of a diverse type of musical deception and even the bands themselves had an evolution among themselves.  I.e.  Mozaik was a folk song performing band or even a chorus at first phase; but beginning with the first half of the 1980s the band found itself on an eclectic basis of rock, jazz fusion, pop jazz, Latin and baroque.
At the end of the eighties she also appeared with her mandolin playing in Serdar Ateşer's debut album "Mütareke Yılları" which was probably the first home studio recorded album of Turkey at that time.
During 1990s' she was also almost everywhere from pop singer Sertab Erener's prestigious album "Lal" to political agitation band Grup Yorum. Her collaboration with Nekropsi is an important one as she had appeared in an experimental group's album which belongs to the next generation of avant-garde music in Turkey. Her experimental and musique concrete tendency was always in line with her affection to folk music of different cultures.  Göksel Baktagir, Yurdal Tokcan ve İstanbul Sazendeleri, Yinon Muallem Ensemble, Klez-Mez,  Ayde Mori  and  Balkan Yolculuğu  were only e few projects as examples of her interest in local musical heritage.
She made her debut solo album named "Issız" with the orchestration of Tanju Duru (ex Ezginin Günlüğü) of in 2009. Beginning with 2010 she was mostly involving in avant-garde music and free improvisation with different projects. She also contributed ethno bands and projects of other musicians even as a guest member with her great modesty. In 2012 she made an avant-garde album named Sert Sessizler (Harsh Consonants) with her free improvisation vocals and Anıl Eraslan's cello.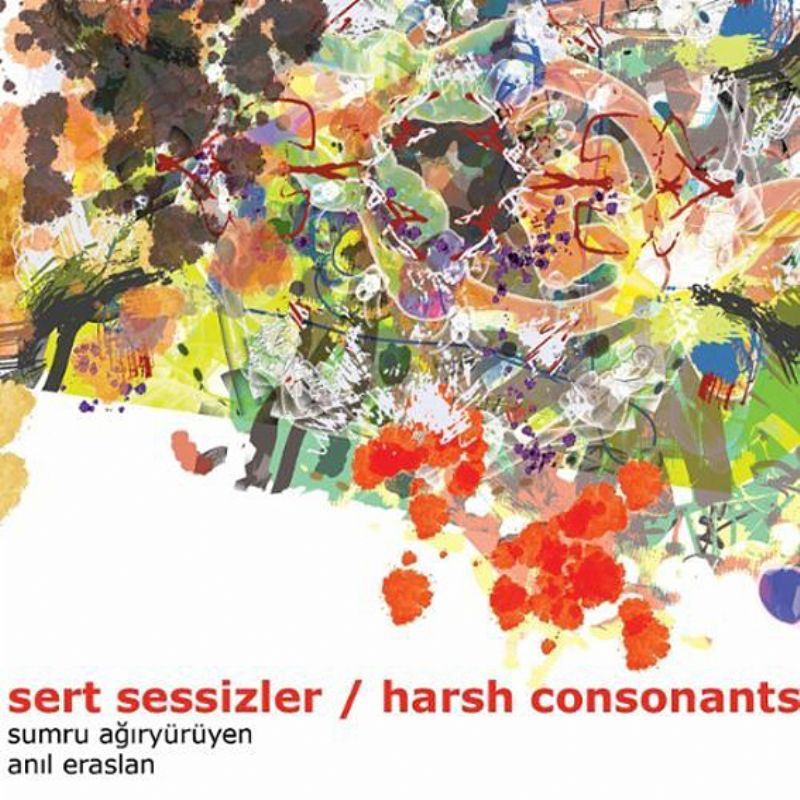 Beginning with 2013 Ağıryürüyen also started a collaboration with Orçun Baştürk (also known as Oichuung) in various projects. Baştürk was first known as the drummer with two influential bands named Replikas and Istanbul Blues Kumpanyası. These both bands were the inheritors of the early Turkish psychedelic rock and Anatolian Pop tradition. Replikas, which was the most long-lasting band of those two used the native musical tradition and blended this tradition with avant-garde and minimalist elements. İBK departed but Baştürk came together with the ex-band mates and performed in context of Saska and Kırıka where he also found opportunity to make music with Ağıryürüyen.
Beginning with 2013, Ağıryürüyen and Baştürk collaborated in various bands and projects like Kırıka, Saska, Ayde Mori and Konjo. In context of Konjo; Şevket Akıncı, Ağıryürüyen and Baştürk formed the core of the group and they collaborated with musicians from different disciplines such as Alper Maral and Serdar Ateşer. Their live improvisation with those two musicians were compiled on a double CD album by Müzik Hayvanı in 2017.
SO Duo is the vocal and ethno electro acoustic project of Sumru and Orçun, and the title of the band is formed of their initials.  The project had its kick off in 2016 and is built on strong references with the pentatonic middle Asian music like the good old Saska.
SO Duo play their own songs basically, writing their own lyrics, and using some texts from ancient/traditional/mystical poetry (from Anatolian sufis like Yunus Emre, minstrels like Aşık Veysel, Lao Tsu, Kabir and from very old Uygur texts about good or bad fortune) as well.
The word and the voice are the founding elements of the project. They don't seek the groove like Baştürk's Replikas days that seem to be as powerful as Jaki Liebezeit but they are on the same perspective with the Can's "Unlimited Edition".
In the project Baştürk rarely uses his drum set, but plays panduri in most of the songs. Panduri is the basic instrument almost in all tracks and this Georgian instrument gives the impression of keeping the search of the absolute sound in every track in context of the musical journey of So Duo. Baştürk who is also a well-known musician in musique concrete field, creates the electronic interventions of the album.
Ağıryürüyen uses her main instrument mandolin and her theatrical vocal. As she is one of the few woman free improviser singers in Turkey, she uses her impressive voice as an instrument of a free improvisation session; but performs song form pieces as well. Both musicians use keyboard which is probably the Micro Korg they generally use in their live gigs.
Their first album called Ay Ana (Mother Moon) was released in April 2018 by Kalan Publishing after the band has refined their repertoire in many live events some held in authentic places like Heybeliada Theological School. Now, the acquis of the band is summarized in an album where they kept their original soul against the album production process.
The first track has the same name with the album title, Ay Ana …  The arrangement of the song belongs to Baştürk and he also plays bass panduri, keyboard, percussion while Ağıryürüyen makes voices, solo chant  and plays mandolin.  The lyrics are based on oral poem tradition of Gabon Pygmies which were excerpted from the book "The Poems of Ancient Civilizations" with the translation of Talât Sait Halman.
The second track "Ey Dost!" (Oh My Friend) has the lyrics of Kebir who was the Indian mystic and sufi poet that lived in 15th century. The composition belongs to Orçun Baştürk and it reminds us of Saska period of Baştürk. Panduri gives a Caucasian and Middle Asian path to the song and the solo mandolin of Ağıryürüyen puts her signature on the song.
'Söylemeden Anladık' (We Understood Before You Spoke) is a pentatonic composition of the duo. Bass panduri's flirting with the electronics is the key element of the song. The lyrics are a combination of a poem of Yunus Emre and a text from Lao Tzu's Tao Te Ching interpreted by Ursula K. Le Guin.
'Acı Türkü' (Bitter Song) is also a mutual composition of the duo while the lyrics belong to Ağıryürüyen. The introduction of the song is performed with the classical kemenche of Elif Canfeza Gündüz who appears a guest musician. The song reminds us of Ağıryürüyen's ethno music and traditional group experience.
'Dağ Yanar' (Mountains Burn) is one of the rare pieces that Orçun Baştürk is on drums. It has influences that remind us of Portishead and trip hop groups of 1990s.  Lyrics belong to Sumru Ağıryürüyen and the music is a joint composition. Ağıryürüyen is on voice and keyboard  while Orçun Baştürk plays  panduri, drums and  electronics.
'Maske' (Mask) is a short instrumental interval piece performed by Baştürk with Celtic harp.
'Derdimi Dökersem' is based on Aşık Veysel's lyrics and the composition belongs to So Duo. Ağıryürüyen performs vocals with her lyrical voice and produces electronic effects with synthesizer. In the same track Baştürk plays panduri. As far as we know the same lyrics were first used by Mazhar Fuat in their debut LP in 1973 with the lead vocal of Hale Alanson. The song has a very similar emotional impact with the first composition. The power of the lyrics? Perhaps …
'Edgü Ol' (The Omen is Good) is a composition of SO Duo and the lyrics are excerpted from   Irk Bitig (The Book of Omens). Irk Bitig is an old omen book from ancient Uygur era. Ağıryürüyen is on lead vocals and Baştürk accompanies with his voice and other instruments like panduri, bass panduri and percussion. The composition reflects the authentic cultural background of the lyrics.
 'Yağmur' is a Baştürk composition and is one of the songs that is not very much far away from the conventional type of orchestration. Both bass panduri and panduri are used in harmony with keyboard in a logic of a band using guitar, bass, drums and keys formula.   Ağıryürüyen reminds us of famous Turkish jazz singer Nükhet Ruacan's vocals.
Sözcükler (Words) has a deep influence of Eric Satie's piano works. Water effects and vocals are performed by Ağıryürüyen while Orçun Baştürk plays piano and uses samples of field recording.  It is a subconscious inspirational work of the duo. This piece is one of the tracks that has the least impact of folkloric elements.
SHODB (Seyir Hidrografi ve Oşinografi Dairesi Başkanlığı Bülteni) is a sampling from the radio bulletin of Department of Hydrography and Oceanography which was probably from a TRT broadcasting.
The last track is called Yele (Mane) which is an avant-garde piece that has a dark new wave sound. The lyrics belong to İbrahim Metin and Sumru Ağıryürüyen and the composition is mutually made by the duo. Baştürk plays keyboard, electronics, oscillator and percussion while vocals are performed by Sumru Ağıryürüyen.
As we hear the whole album, what we perceive  is a sound and a musical logic that uses both folkloric and avant-garde elements not to create a synthesis but to seek for the ways to express the acquis of two talented and experienced musicians in the most natural and modest attitude. Therefore this album is neither fully avant-garde nor a typical folk album or a promising work of a great synthesis or fusion;  but a unique interpretation of folk with alternative lyrics of timeless texts and an experimental perspective.